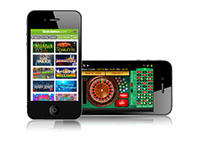 All mobile and tablet devices could be divided in two different types – touch-screen and casual ones. The latter is just your casual phone with casual buttons, while device featuring a touch-screen can be turned into a gaming machine. That's right, online casinos have developed games for these devices, which feature special effects to those who are using touch-screen ones.
So which are the best touch-screen casino games? This is exactly what we'll be covering in the following paragraphs.
Touch-Screen Blackjack
Blackjack's the most played casino table game in the world and mobile casinos are not an exception. This was one of the first games to be developed and now enjoys huge popularity. Touch-screen version of this game is designed in a special way, with all the action being at your fingertips. The rules of the game are no different than at a normal casino, which is quite logical.
Touch-Screen Roulette
Roulette is one more of the giants in terms of popularity. I doubt you've seen an online or land-based casino, which doesn't feature roulette. Quite logically, there's also roulette at most mobile casinos!
Those who offer it in a touch-screen version have it done in European style, featuring a single zero wheel and a clear layout. Game play and the whole user experience is thought out and even beginners will have no problem here.
Touch-Screen Baccarat
Baccarat is quite a newbie to the online casino scene and was previously played in private, exclusive clubs only. Main reason to its success online is the small house edge, which is only 1.06% . Another reason is probably the ease of playing it – you don't need any strategy and there are no decisions you have to make. Well, there is one – how much do you want to bet? Yep, it's that simple!
Largest mobile casinos have understood the importance of having mobile baccarat and it has been implemented at most. There are a few ones supporting touch-screen devices as well.
Touch-Screen Scratch Cards
Scratch cards are a way different casino "discipline", than the ones listed before these. As you can probably judge by their name, there's going to be some card scratching done. This game type is very similar to moment lotteries – it takes a few seconds to scratch off the cover and you are already able to see, whether you've won or not.
While typical scratch card games offered at a casino might not be exciting, touch-screen ones certainly are! There's no difference between a real scratch card and one you are scratching off through your device! You still have to move your finger! There's actually one advantage to online one, in case of a loss, you don't have to find a trash for it!
Want to know more about touch-screen games and mobile casino games, before you actually start playing them? You can read all about mobile casino games at MobileCasinoSlots.net.