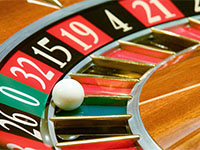 If you have played in a casino before, online or physical, you will think that you are familiar with the roulette wheel. The roulette table is one of the busiest places in a casino and with the noise and clatter of the wheel and ball coming together; there can be quite an impressive atmosphere at this game. This means that novice players or first-time visitors to a casino will be enamoured with roulette but given that hardened casino players also have a lot of love for roulette, there must be something else that seems to make everybody happy.
A major factor for everybody loving what roulette has to offer much comes with the roulette betting options. No matter what skill-set or experience you have with betting, there will be a roulette bet that you are comfortable making. The easiest choice can be seen with a player choosing between an odd or even outcome for the spin of the wheel. This is as close to calling heads or tails on a coin-toss game that you can get which means that everybody should have something that they can play. It is quite often the simplest games that are the most fun to play and this seems to be very true for casinos.
Build your roulette experience
If you do not have much experience with online roulette, it is likely that the outside bets will be of interest to you. These are the best that offer a smaller pay-out but present a bigger chance of winning. Grabbing some wins at the roulette table can give you the confidence to make more difficult bets and it can also help give you the money to make more bets as well. Over time you can enjoy a great range of roulette bets but it is always best to ease yourself gently into a new game.
Inside or outside is up to you with roulette
Once you have moved on from betting on a colour or the odd and even option, you may want to consider a column bet based on the way the numbers are laid out on the roulette table. Placing chips at the end of a columns means that if the ball lands on any number that is contained within your column, you will win your wager. A similar bet comes with the dozens bet where the table numbers are split into dozens (1-12, 13-24, 25-36) and again, if the ball lands on any number within your chosen section, you will win your bet.
The inside of the table provides bigger winnings but as you would expect, the likelihood of winning becomes shorter. This is where players are looking to place a more exact wager on the outcome of the spin. This can often come down to luck but if you have a gut instinct about the outcome of a game of roulette, this is the side of the table to examine if you want to back your instinct with cash. No matter what type of roulette bet you make, there is a lot of fun to be had at the roulette wheel.