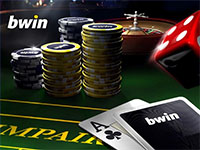 It's a good old-fashioned Texas showdown (Texas Holdem, that is). Because when they say Country Showdown, Bwin Poker is not talking about the Midwest of the United States. They're talking about the countries around the world being represented in the Bwin Poker Weekly Country Showdown of poker, an ongoing promotion of national pride running every week on Monday nights.
Bwin Poker's Weekly Country Showdown is a country restricted event, which means that you can only play in the event for your country and therefore will only be competing against your fellow countrymen (and women) for the title of best online poker player in your country for that week.
Each event in the Bwin Poker Weekly Country Showdown is a No Limit Texas Holdem event with a $3 + $0.30 buy-in and a prize pool, depending on the number of entrants, of up to $3,000, though guaranteed to be at least $300. All events are rebuy tournaments and add-on tournaments.
Each country's event has a different name and scheduled time. The participating countries, and the names of their respective Bwin Poker Weekly Country Showdown events, are listed (alphabetically) below. But you must check the Bwin Poker site (on the bwin.party network) itself for the exact time for your country.
Austria: Montags-Special
Balkan, Slovenija: Balkan Weekly
Baltics: Baltic Manic Monday
Belgium: Belgium guaranteed
Canada: Canadian Weekly
Czech Rep./Slovakia: Cesko-Slovensky special
Denmark: Ugentlig turnering garanteret
Finland: Finnish Weekly
France: Lundi rebuy
Germany: Manic Monday
Greece: Greek Poker Mondays
Hungary: Magyar verseny
Netherlands: Netherlands Weekly
Norway: Norwegian Weekly
Oceania: Oceanic Weekly
Poland: Gorczka poniedziaBkowej nocy!
Portugal: Portuguese Monday Special
Russian Federation: Russian Weekly
South America: Locura de Lunes?
Spain: Spanish Monday gambler
Sweden: Veckoturnering gtd
Switzerland: Montags-Special
United Kingdom: UK Weekly