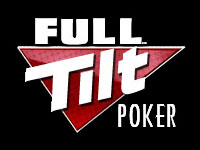 Full Tilt Poker attracts many new users by offering them the chance to "Learn, Chat, and Play with the Pros," suggesting that if you want to play poker online, Full Tilt has the most to offer you. Before you find the best Full Tilt referral code and transfer your funds, though, you should know exactly what Full Tilt can offer you.
Full Tilt is currently the second-largest poker site online (after PokerStars), and the increase to this spot comes largely from the fact that they are open to Americans who want to play poker online. After the passage of the Unlawful Internet Gambling Enforcement Act in 2006, many big name sites, like Party Poker, withdrew their business from the American market. Full Tilt, which was at the time still a newcomer on the scene, opened their arms to US players and have been rewarded for it.
Unlike most other poker sites, which were founded by businessmen looking to turn a profit, Full Tilt has always involved a team of professionals in their foundation, development, and play. Professional poker players are very important to Full Tilt, which not only claims "Team Full Tilt"– their group of full-fledged members, including the initial brain trust of Howard Lederer, Phil Ivey, Jennifer Harman, Chris Ferguson, Mike Matusow, and Andy Bloch among 8 others– but also "CardRunners," "The Hendon Mob," (both of which also count as "Full Tilt Pros"), the "Full Tilt Pros" not associated with either of these teams, and, finally, "Friends of Full Tilt".
Perhaps because of the many big name players who frequent the site, Full Tilt has been home to the ten largest online poker pots of all time, as well as the hundred biggest online pots of 2009. Most of the largest pots on Full Tilt are among Team Full Tilt members, who frequently play poker online through the site. Unlike Team Full Tilt, Full Tilt Pros are sponsored by the site, but may or may not spend a considerable amount of time on Full Tilt; many split their time between this and other online poker locales.
Certainly, Full Tilt Poker is swarming with professional poker players, so if you want to play poker online with people who know what they're doing and are making a career out of the game, this is definitely the site for you. Online poker sites are often ranked based on the skill level of their players, with a weaker average player level often considered better because it allowed skilled players a chance to sweep up on a regular basis as well as giving novice players competition that won't eat them alive. Full Tilt has a huge number of players, so the average player level isn't completely thrown by the presence of Team Full Tilt and the Full Tilt Pros (i.e., new players don't have to immediately sit down with players who have spent years playing the game), but if you're looking for some competition or want the chance to improve your game, grab a Full Tilt referral code, get your bonus, and come and play.