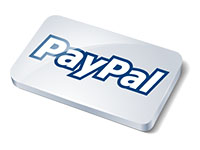 Paypal is by far the most popular online payment processors online, with more than 200 million accounts opened until 2010. Despite its popularity, the vast majority of online poker rooms, and other gambling websites such as online casinos, are not accepting Paypal as a method to fund accounts, unlike for example an online poker shop. This is quite remarkable, and can generally be seen as bad news for online poker players and gamblers.
However, there is some good news to tell regarding Paypal poker rooms as well, as there is still a minority of online poker rooms whom accept Paypal payments.
Paypal Poker Rooms
Currently there are seven different poker rooms online which accept Paypal as a payment method to fund accounts, but not all of them are that great. What follows is a short presentation about two of the most popular online poker rooms which still accept Paypal:
888 Poker
This is an online poker room that has been around since the early days of online poker. In fact, this poker room was one of the first ever launched, but you might not recognizing the name as they only recently changed it from Pacific Poker to 888 Poker. They are offering real money games since 1997 and have a very loyal and consistent player base. Their software is excellent. You can play on a downloadable -, as well on an instant play version, but best of all, they offer the ability to play online poker in 3D.
bwin Poker
This poker room represents one of the biggest and most popular online gambling brands throughout Europe. Their online poker room makes part of the Ongame Network. In fact, bwin is the rightful owner of the Ongame Network. Playing on bwin Poker means you will find a decent amount of traffic all day long, together with a great variety of online poker games and tournaments to choose from.
During the last couple of years, the number of online poker rooms which accept Paypal as a payment method has increased, but be careful which you choose to play at. Pick the ones above, and you're good! Anyway, let's keep our fingers crossed that also the bigger rooms such as Full Tilt Poker and PokerStars will follow some day…