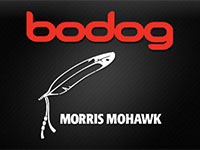 Bodog's online casino and poker room are two different software downloads, but the cashier transfers over for both. If you sign up for one, your account is active on the other, all you have to do is download the software. Funds deposited on either the casino or the poker room are available in both. They offer a 10% automatic first deposit bonus, so rather than having to accumulate points, as is the case with many online casinos and online poker rooms, you receive your cash bonus for the first deposit the instant you complete the transaction.
Bodog Casino
Bodog Casino is a rather fun online casino to play at. You can find just about any casino game you can imagine, including a wide variety of slots and progressive slots with which you can play while you're doing other things, (thanks to the auto play feature.) The craps table features great graphics and an easy interface as does the roulette table. The payouts are as good as you can hope for from any online casino, offering some of the highest payoff odds available.
Bodog Poker Room
Bodog's poker room is a great place to play online poker. Not so much because of the interface, or even the graphics for that matter. In fact, the graphics leave plenty to be desired. What makes Bodog's poker room fun is the players. This is a great poker room for any shark who knows how to take advantage of a fish. There aren't as many players at any given time as there might be on poker rooms such as Full Tilt, or Poker Stars, but you don't seem to find nearly as many dangerous players on these tables. So you may find it easier to win money here.
Cash games are the most popular with this poker room, but there are plenty of SnG and scheduled tournaments available as well. One thing you can find on Bodog's poker room that is not found in most other poker rooms is the game 5-card stud. So extra points to Bodog Poker for that, though there don't often seem to be many players interested in the game, it is available for those who do like 5-card stud.