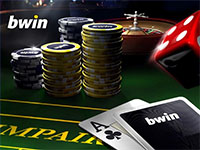 In most games of No Limit Hold'em the joker is removed from the deck before play, as it has no bearing on the game. But even though there's still no joker in the deck in the Bwin Poker The Joker Sit & Go Tournaments, the joker has everything to do with the game. Just not in the way you may think.
In The Joker Tournaments at Bwin Poker, prizes are not necessarily awarded according to performance, or at least not to best performance. Sure, 1st place gets the big prize, but second prize doesn't go to second place, but rather to fifth place, and third prize, similarly, doesn't go to third place but to ninth place.
For the next month, until July 25, Bwin Poker is holding The Joker promotion, a Sit & Go freeroll tournament, each one with a $1,000 prize pool along with $1,000 added to a weekly tournament leaderboard.
These 10 seater Sit & Gos have a $2.20 buy-in and start players out with 1,500 in starting chips with a Turbo schedule in which blinds go up every 3 minutes.
Even those players who aren't able to finish any The Joker tournaments in the money are still given another opportunity to win, with the I Lost The Joker Freeroll in which players can compete for a share of a $1K weekly guaranteed prize pool. These I Lost The Joker consolation freeroll tournaments happen on Saturday's until July 24 at 17:00 GMT.
Just like in the prize structure for the actual Joker Sit & Gos, the weekly leaderboard will be awarded the same, with prizes going to 1st, 5th, and 9th in the same ratios of 50%, 30%, and 20%, respectively.
In the case of these $1,000 prize pools, that breaks down to $500 for 1st place, $300 for 2nd place, and $100 for 3rd place.